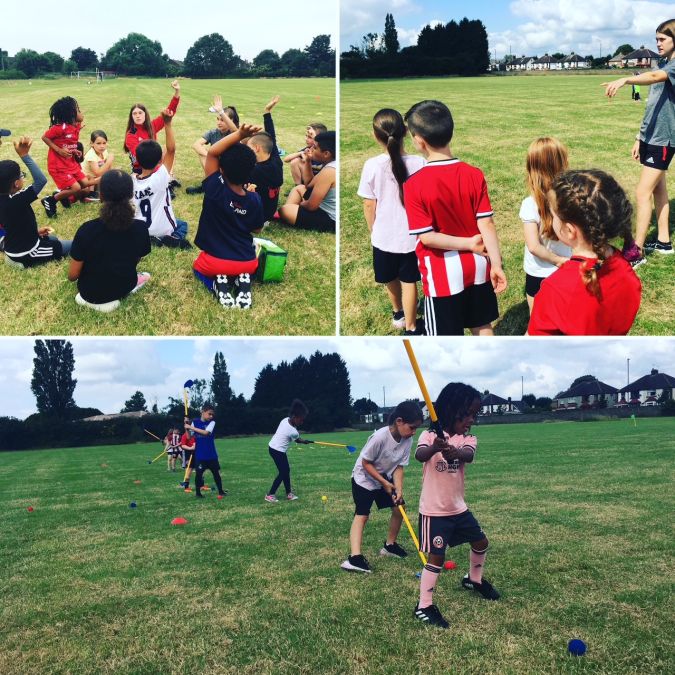 Sheffield FC
Easter Multi Sport Camp - Goals Sheffield - W.C 11/04/2020
Dates:
Monday 11th April 2022 – 9:30am – 3pm
Tuesday 12th April 2022 – 9:30am – 3pm
Thursday 7th April 2022 – 9:30am – 3pm
Friday 8th April 2022 – 9:30am – 3pm

Venue:
Goals Sheffield
95 Norfolk Park Road
Sheffield
S2 2RU

For more information, please contact info@sheffieldfc.com




Sheffield F.C. Multi-Sport & Soccer Easter 2022 Camp:
From ages 5-11 year old's:
The Sheffield FC Junior Activity Camps offer a number of alternative sporting opportunities in addition to football with a focus on whole person development.


Sports included: Tri-Golf, Dodgeball, Mini-Tennis, Rounders, Archery Arrows, Seated Volleyball, Goalball, Quick Cricket and Change 4 Life Activities.

The Sheffield FC Junior Activity Camps introduce different types of equipment from what children may have used in the past to increase engagement.
The Sheffield FC Junior Activity Camps also ensure as a priority that all children work on and develop their physical literacy with fine skills, balance and coordination, left & right usage, bigger/smaller distances, etc.

The Sheffield FC Junior Activity Camps embed throughout the programme: Functional Skills (Maths & English) Creativity (daily art competition) Independence (help set up/break down sessions) Teamwork (leadership & problem solving) Communication (listening and speaking) Makaton Signing (daily workshop) Story time (daily story developing listening skills with a Q&A checking of understanding)
A Makaton sign workshop is offered every day to all children for personal development and a huge engagement and communication benefit.
All coaches are security checked qualified FA registered.